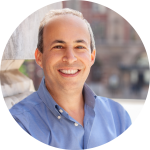 In our latest Members Spotlight Interview, we spoke with PropTech Gold Member, Dan Salmons, CEO of Coadjute, a real estate blockchain network.

Dan discusses how Blockchain speeds up the buying and selling process, insights into their recent investment from US-based VC and exciting developments we can expect to see from Coadjute in 2021…
---

Q: As a real estate Blockchain platform, can you share insights into how Blockchain speeds up the buying and selling process?

A: Today, the property buying process can be slow, complex, and costly for both buyers and sellers, as well as the businesses that serve them. This is not caused by the companies themselves, but by the lack of connectivity between them. Coadjute is a digital network for the property market. From early 2021 we are going to be connecting all the parties involved in buying or selling a property in the UK, enabling documents and data to be shared and synchronised in real-time. This removes a lot of time spent today on tasks like phoning round to find information or uploading documents from email to systems, with all the associated risks.

Blockchain technology brings several benefits when you're connecting up a market like this:

• Property businesses do not need to entrust their data to a central hub. Coadjute uses Distributed Ledger Technology to securely pass data from business to business without ever centralising or even seeing it. Property businesses can continue to hold their data in their own secure environments.

• It prevents the need for a 'cats cradle' of connections between parties. One connection to Coadjute connects a party to every other party, a bit like a 'National Grid' for the property market.

• DLT enables us to ensure that all the different systems are synchronised, only the right parties can change certain data, and so at any one time, there is one version of the truth.

Q: Congratulations on your recent investment from a US-based VC, can you tell us the purpose of this round?

A: Thank you. We are proud to be backed by a range of global VC investors, include US investor Collab+Currency. Our other investors include Swiss Venture Capital firm, Blockchain Valley Ventures, tech and property funds Odysseus Investments and Ahimsa-Esya Capital, and David E. Rutter, the founder of enterprise software firm, R3.

What all these investors have in common is a passion for businesses that have the power to change industries for the better. They also bring expertise in areas of interest to Coadjute, and in particular blockchain technology, the global property market.

These investors, along with the major partners we've already announced (DezRez, MRI, Reapit, Redbrick Solutions and VTUK), are helping us to accelerate the development of our open network, build adoption in the UK property market, and strengthen the future product roadmap.

Q: What separates Coadjute from competitors?

A: There has been a need for improved connectivity in the property market for decades and several attempts to solve for it in the past.

Coadjute approaches the problem in a way that has never been done before, by connecting up property businesses from within the existing systems they use. This makes the network much easier for a business to adopt and use since the functionality is easily available within their existing platform.

In addition, Coadjute is the first to bring blockchain technology to the UK property market, enabling data and documents to be shared and synchronised without the need to centralise them. This is a major benefit for participants, providing unprecedented levels of data privacy and security across the network.

Q: Can we expect to see any exciting developments from Coadjute in 2021?

A: Our focus in the short term is the UK market where we are launching the Coadjute Network early in 2021. It will be the first open network in the world to connect all the businesses that take part in property transactions via blockchain end-to-end and will deliver huge cost savings and efficiency improvements to businesses, and a much better experience for house buyers and sellers.

Ultimately, we believe it could halve the length of time it takes to move home and will be expanded to many adjacent services and other geographies. But for 2021, our focus is on the UK property market and starting the journey to making it a truly digital property market.

Q: Lastly, where do you see the industry headed in 2-5 years?

A: The property market has been demanding digitisation for some time, but it has been slow to emerge, in part due to the complexity and importance of the market. We believe that a number of factors are now coming together that now accelerate the adoption of new technologies. These include the challenge of the current Covid crisis, which has undoubtedly increased demand for digital solutions, as well as the emergence of new solutions like Coadjute, which can solve some of the big problems of the market in genuinely novel ways.

Over the next 2-5 years, I think home movers will start to see the kind of substantial change to their experience that they have already seen in retail, banking and other sectors. That means a lot less use of paper, email and phone, and more activities done a lot more quickly and easily on a mobile or online.

Our home is such an important asset to all of us, both financially and emotionally. So in 5 years I very much hope that Coadjute has made the experience of moving a lot quicker, easier, and, even more enjoyable.